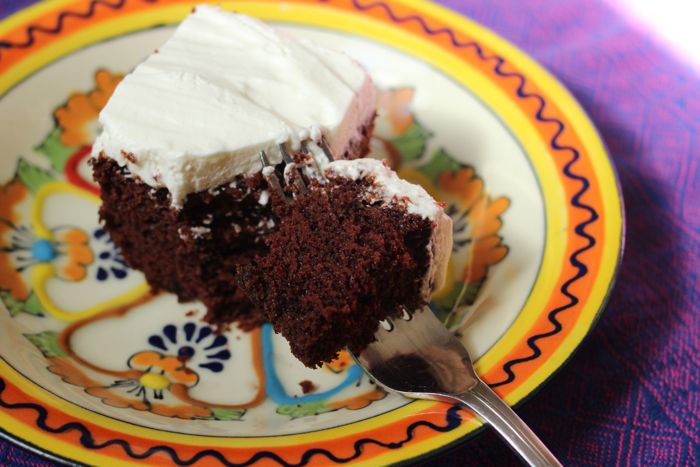 During times when I desperately need to grocery shop, but the kids are asking for dessert, this is the recipe that I turn to. The cake is both egg and dairy free, so it is not only good for an empty fridge, but for people with allergies. It is very moist and light, with lots of chocolate flavor, but not overly sweet. The frosting is similar to whipped cream, very light, but cream cheese is added to help it along. Of course, the topping is not dairy free, so feel free to use another frosting if you're allergic.
Egg Free, Dairy Free Chocolate Cake
Serving Size = 1 9x13-inch pan
3 cups all purpose flour
1 teaspoon salt
2 teaspoons baking soda
1/2 cup unsweetened cocoa powder
1 3/4 cups white sugar
3/4 cup oil (I use grapeseed)
2 tablespoons distilled white vinegar
2 1/2 teaspoons pure vanilla extract
2 cups cold water
Preheat oven to 350F.
Stir all of the dry ingredients together.
Add the wet ingredients and mix until combined well. I do not even use a mixer for this, just a spoon or fork.
Pour into an ungreased 9x13-inch pan. Bake for 35 - 40 mins, or until toothpick comes out clean.
Whipped Cream Cheese Frosting
Serving Size = Enough to cover 9x13-in pan. Probably 4 or 5 cups.
1 8-oz package of cream cheese softened to room temperature
2 cups white sugar
1 teaspoon vanilla extract
2 cups heavy whipping cream
Using a stand mixer with a whisk attachment, beat together the cream cheese and sugar until smooth, over medium speed. Add the vanilla.
When combined, slowly pour in the heavy cream, turn up the speed a bit and mix. Stop and scrape the bowl, then turn it back on and beat until stiff peaks form.